I'm a long-time user of privacy screens. You know what I mean, those polarising filters that sit atop your screen and reduce the viewing angle from what is effectively 180° to just 60° or so. These filters make it difficult for your neighbours on planes, trains, or in cafés to see what you're working on or to read the text on your screen.1
Historically, I have opted for 3M filters as these work well, are widely available and are inexpensive. Unfortunately, the filters I have used in the past are all of the kind that either adhere directly to the screen or that slot into holders that one has to affix to the screen's bezel. In both cases, the manufacturers tell us that the adhesives are removable and reusable. Sadly, in my experience, they are not.
Therefore, it intrigued me to learn of a new privacy filter by Stark Inc.2 that affixes to the MacBook magnetically, thus being easy to remove and reuse.
I ordered one and have been using it daily for a couple of weeks now (in fact, as yet, I haven't removed it from my MacBook).
The Stark screen is well made (in Germany). It's thicker and more rigid than the filters I have previously used. It feels like a quality product.
At the top of the filter is the magnetic strip that binds to the magnets(?) or ferromagnetic material in the MacBook's bezel. There is a cutout in this strip so that the ambient light sensor, camera and camera LED are not obscured. With this magnetic strip, the filter is ridiculously easy to remove and reapply.
So how about those viewing angles? Well, see for yourself.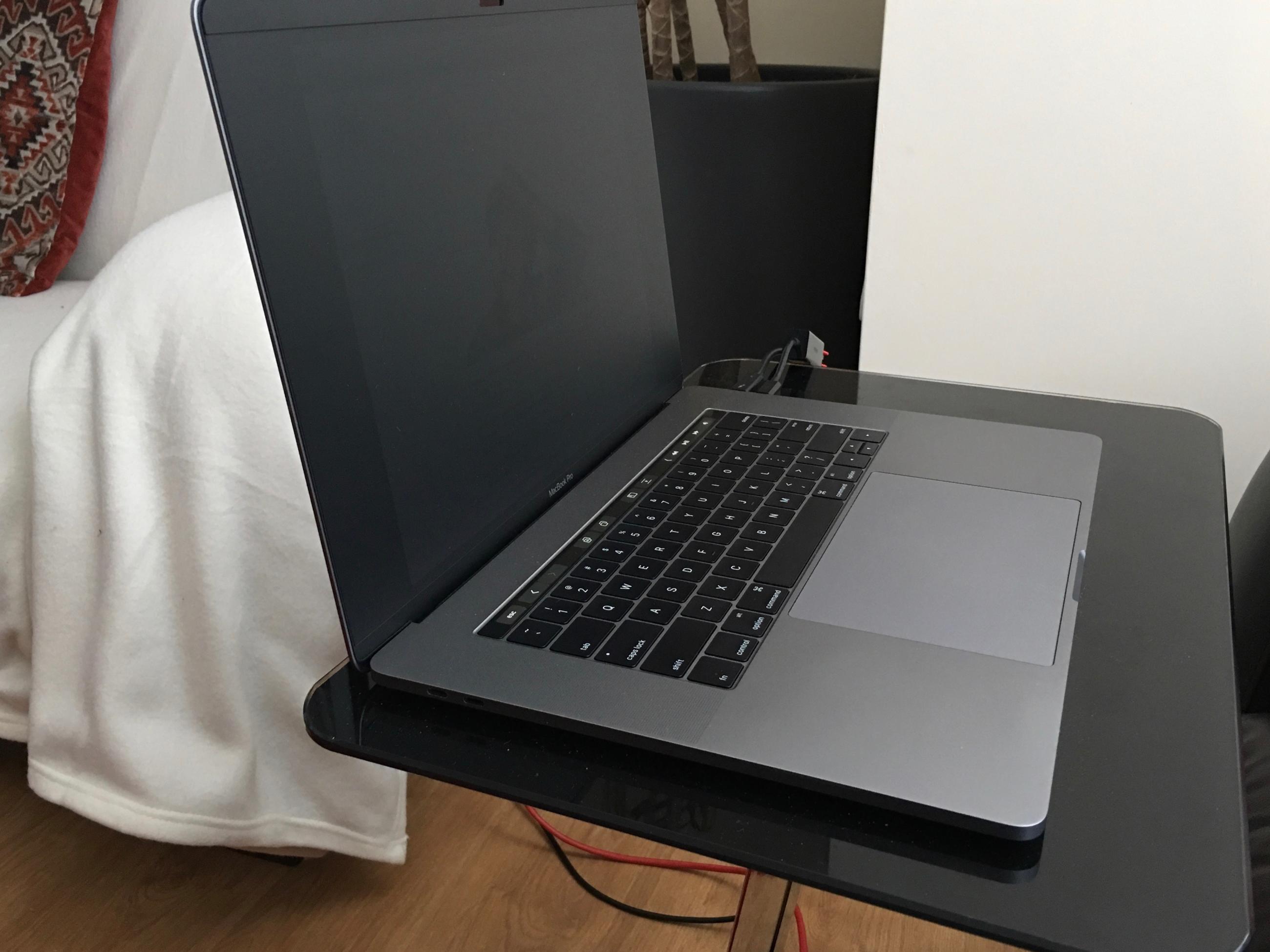 I took the above photo from a position roughly where I estimated a neighbour's viewpoint to be. The MacBook is on. Screen brightness is at 50%. Visibility is severely impaired. You can just about make out that there's something on the screen if you look at the full size image. But you certainly can't read any text.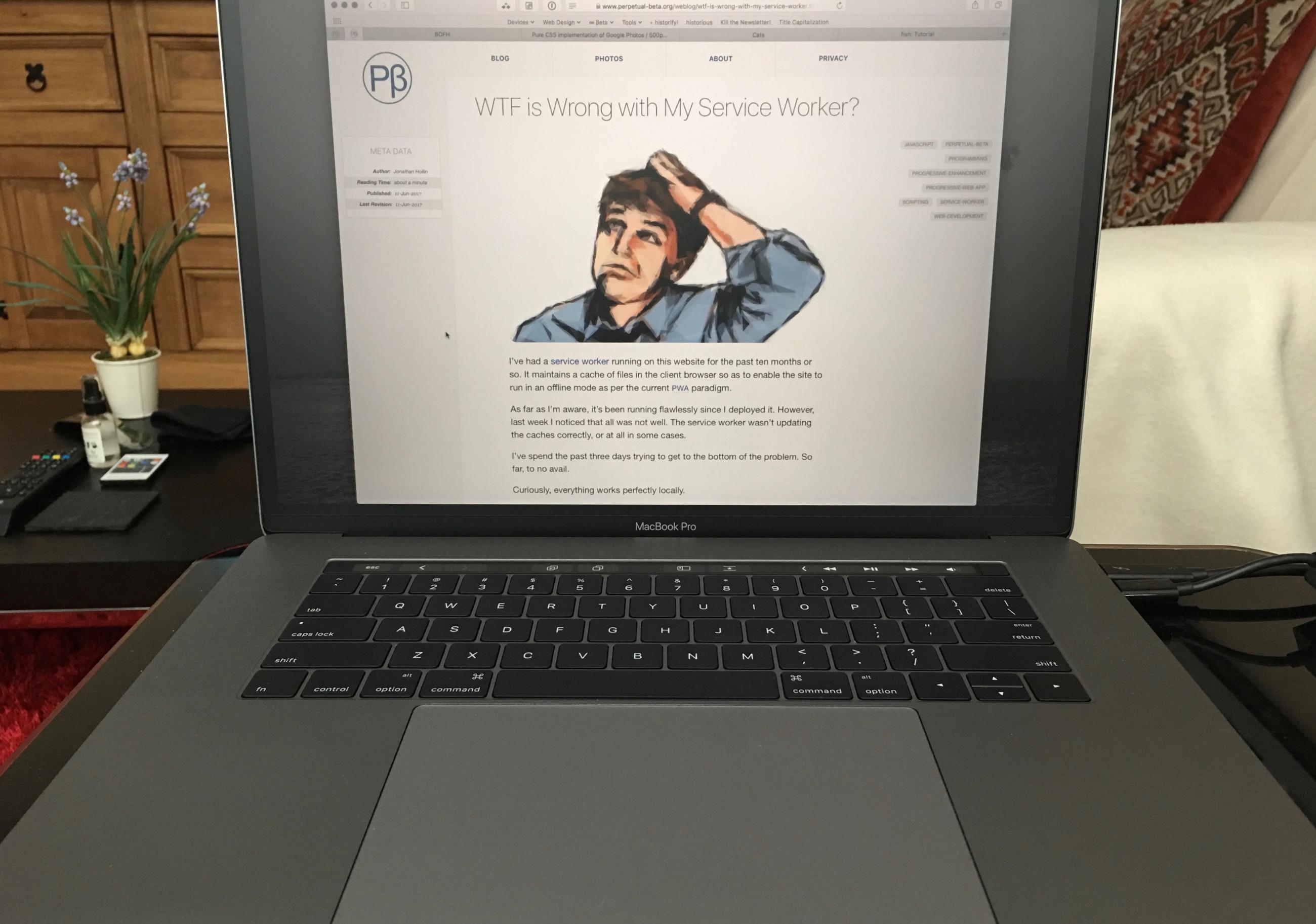 I took this second photo head-on to the screen. Here too, the screen brightness is at 50%. Visibility is 100%.
What you can't see from the second image is the large bay window behind me, with the sun high in the sky. You can't see it because the Stark filter is anti-glare and anti-reflecting. It's also scratch resistant.
Best of all, it's reversible. One side has a glossy finish, the other is matte. You read that right. A matte finish. I can't tell you how nice it is, when you do as much imaging on your computer as I do, to have a matte screen. How I wish Apple had continued to offer matte screens as an option.
Is this the best privacy screen I've used? No, that award has to go to the 3M Privacy Filter. However, the Stark privacy filter, without a doubt, is the most convenient of its ilk. For ease of application and removal, there's nothing to touch it.
Pros
Limited viewing angle;
Simple to apply and remove;
Reusable;
Matte finish (reversible, glossy on the flip-side)
Cons
Expensive ($57 (

US

), plus shipping);
Darkens screen slightly (but then, they all do);
Cutout for camera is off-centre, so obscures the camera

LED

when the glossy side is up;
Magnetic strip is slightly too thick for the laptop to fully close.3
Important when you're working secretly on the "the next big thing" or checking your embarrassingly negative bank balance. ↩︎

Iron Man, did you make this thing? 😃 ↩︎

This bothers me, but I always travel with my MacBook in a sleeve. One that's tight enough a fit to keep the laptop as closed as it can be, so it hasn't been a problem. However, I hope that Stark can address this in their next iteration of this product. ↩︎