I consider myself to be a keen amateur photographer, albeit a lazy one, in that I tend to leave my camera at home rather more often than I should.
Of the several thousands of photographs I have taken over the years, those I present here are ones I am particularly proud of, or that I find compelling in some way.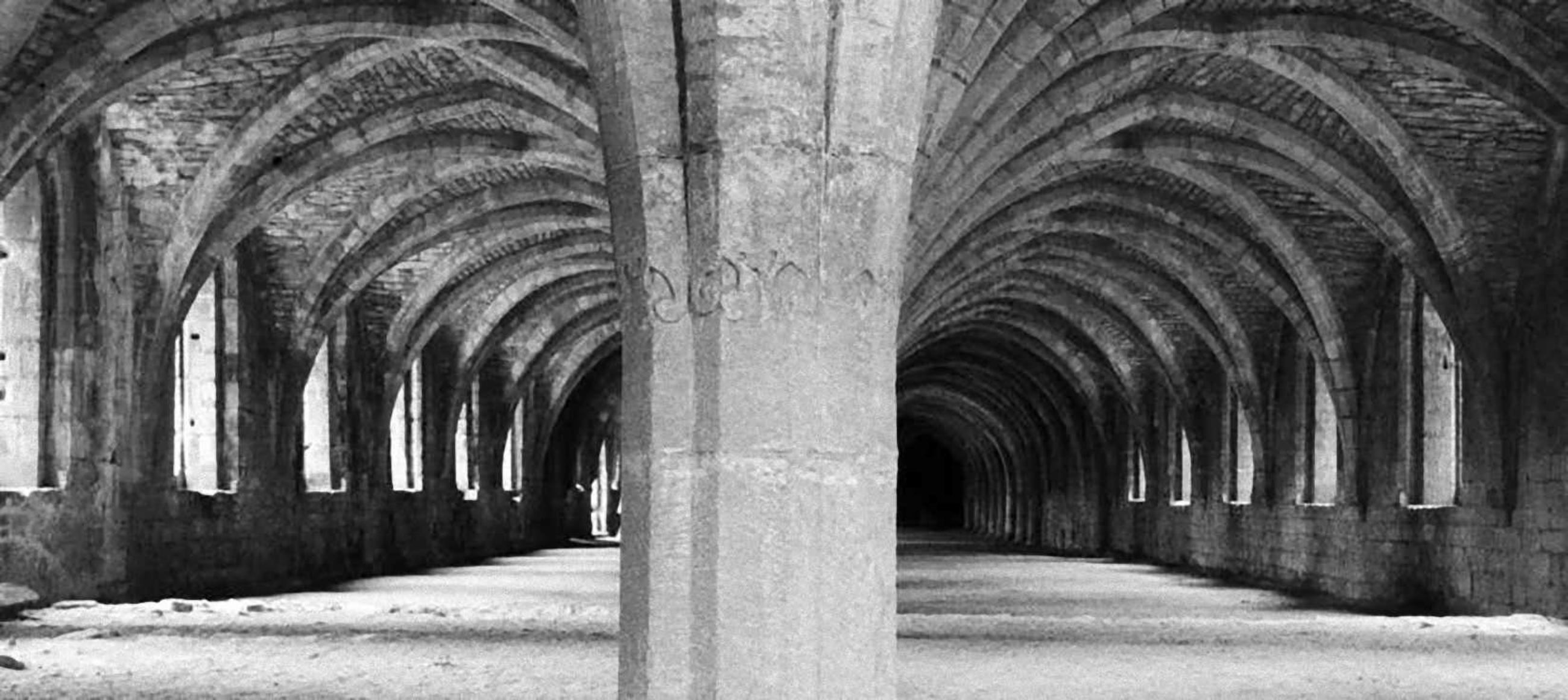 The Monks' Cellarium at Fountains Abbey
"Fountains Abbey is approximately three miles south west of Ripon in North Yorkshire, England — near to the village of Aldfield. Founded in 1132, the abbey operated for over 400 years, until 1539, when Henry VIII ordered the Dissolution of the Monasteries. It is one of the largest and best preserved ruined Cistercian monasteries in England." Wikipedia
My parents first took me to Fountains Abbey when I was a child and I have returned from time to time. The abbey and it's surrounding landscape are both beautiful and tranquil, so much so that I am almost compelled to return during those times when there is turmoil in my life. I can spend a day in the glorious countryside, within which the abbey nestles, and discover that my troubles aren't that bad after all.
The Monks' Cellarium (food storage room) delights me with it's intricate, symmetrical architecture. The cellarium has strange, sound-deadening acoustics and, despite a multitude of windows, is dimly lit. It's a place that always makes the hairs go up on the back of my neck.
Taken:
21st March, 2008
Camera:
Nikon

D80

Focal Length:
29mm
Film Speed:

ISO

100
Aperture:
ƒ/8
Shutter Speed:

1.1

seconds (tripod mounted)
---
Handley Page Victor Bomber
The Handley Page Victor Bomber was one of the mainstays of Britain's nuclear deterrent during the dark years of the Cold War. It was the third and final of the V Bombers, the strategic nuclear strike force. It's role: to fly under Soviet radar and deliver it's devastating payload. The V Bombers were gradually phased out as Britain began using ballistic missile submarines as it's nuclear deterrent, passing the sabre from the Royal Air Force to the Royal Navy.
My father did his service in the RAF and thus for some of my early childhood we lived on airbases. The V Bombers were a familiar sight to me.
I took this photograph during an air show at the Yorkshire Air Museum. The weather that day was glorious which made for a great day out, but which resulted in photos that didn't convey the sombre mood I wanted. Thus I have converted this image to monochrome and adjusted it's contrast and brightness. I also added some grain in post-processing to give it that gritty feel.
Taken:
1st August, 2010
Camera:
Nikon

D80

Focal Length:
35mm
Film Speed:

ISO

100
Aperture:
ƒ/

4.2

Shutter Speed:
1/500
---
Berlin Wall
This photo captures one of the last remaining sections of the Berlin Wall (Berliner Mauer), which was finally opened, after 28 years, on the 9th November 1989. This section is part of an open-air exhibit at the Topography of Terror museum in the heart of Berlin. Even today, it is chilling to stand before the Wall. It serves as a stark reminder of how dangerous the Cold War really was and how much fear it generated between the nations of NATO and those of the Warsaw Pact.
The East German government described The Wall as an "Anti-Fascist Protection Rampart." It was ostensibly designed and built to keep West Berliners from invading the East. It's real purpose was to keep dissatisfied East Germans from working in or permanently emigrating to the West. It cut through existing infrastructure as it precisely followed the lines of the border, sometimes severing roads, railways and tramlines. It was heavily reinforced and, in its final years, all but impregnable.
The human cost of the Wall was immense. It divided families and friends. It tore apart neighbourhoods. It was a place of death.
While the precise number is unknown, at least 136 and possibly more than 200 people died — by accident or state-sponsored execution — while trying to break out of East Germany through the Berlin Wall.
Taken:
8th September, 2005
Camera:
Sony

MVC

-

CD500

Focal Length:
7mm
Film Speed:

ISO

100
Aperture:
ƒ/4
Shutter Speed:
1/200
---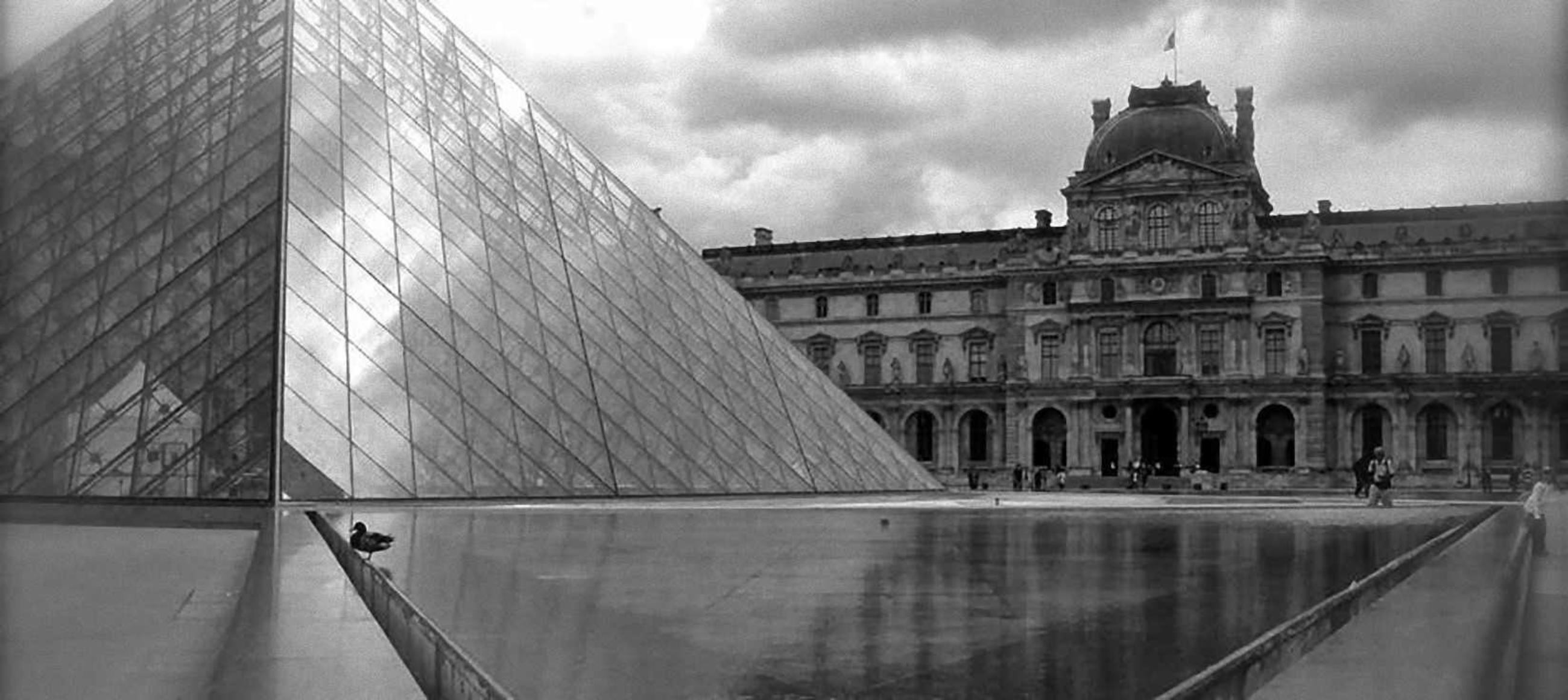 Musée du Louvre
I am always struck by the juxtaposition of old and new architecture at the Musée du Louvre in Paris, France. The thoroughly modern La Pyramide in the main court, Cour Napoléon, stands strikingly opposed to the classical design of the Palais du Louvre's original buildings.
The Pyramides divide opinion amongst the Parisians. Some welcome the structures, completed in 1998, while others consider them a blight on the inherent beauty of their surroundings.
Taken:
2nd July, 2007
Camera:
Sony

MVC

-

CD500

Focal Length:
7mm
Film Speed:

ISO

400
Aperture:
ƒ/5
Shutter Speed:
1/1000
---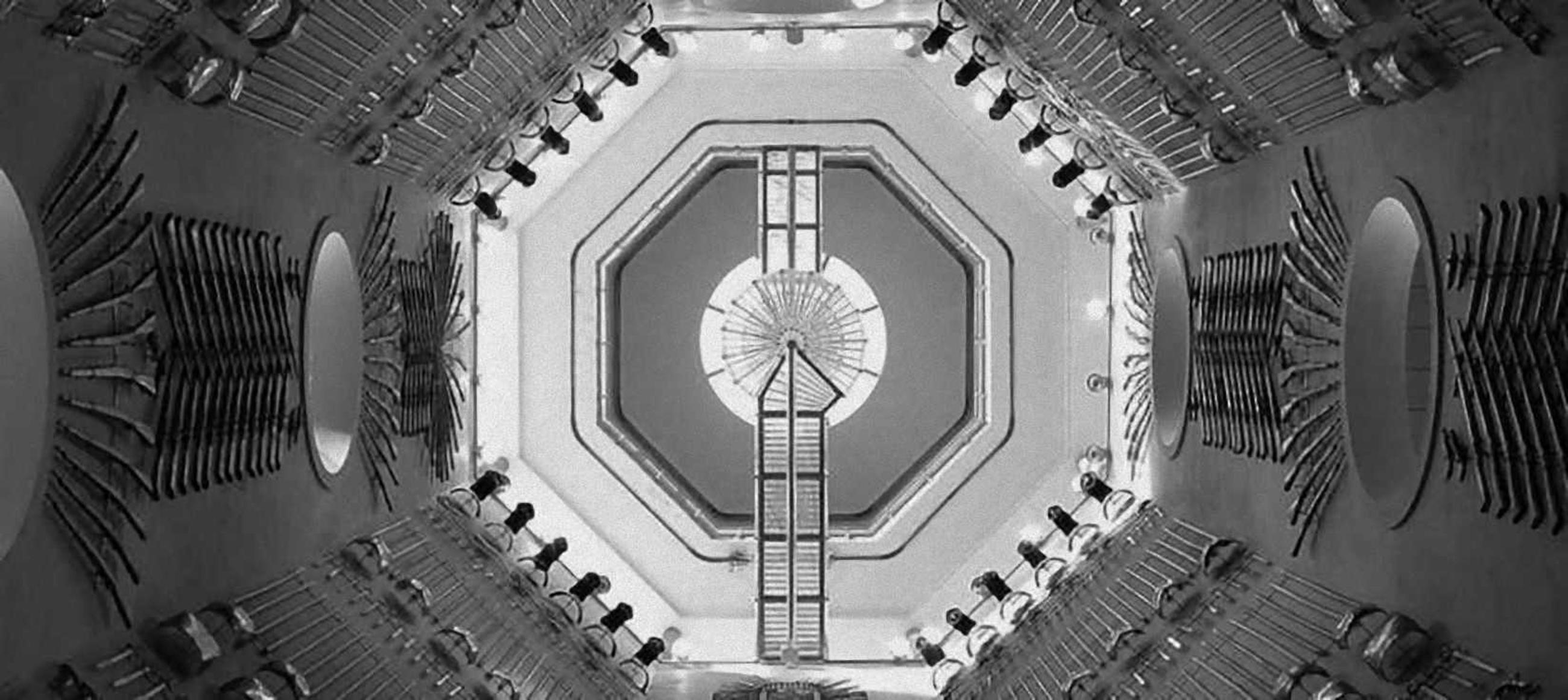 Hall of Steel
Looking up the impressive Hall of Steel exhibit at the Royal Armouries in Leeds, England. I took the original photograph in colour but decided that a grayscale conversion gave it more drama.
"The displays around and inside the stairwell consist of mainly 17th century armour and 19th century military equipment. There are over 2,500 objects and they represent the largest mass display of arms and armour since the 19th century."
Taken:
7th March, 2004
Camera:
Sony

MVC

-

CD500

Focal Length:
7mm
Film Speed:

ISO

400
Aperture:
ƒ/4
Shutter Speed:
1/80